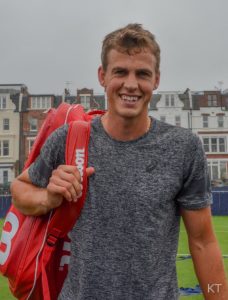 According to the Canadian Press on Monday, Vasek Pospisil of Vernon, British Columbia was the 2020 ATP Comeback Player of the Year. This past year, Pospisil moved up 89 rankings from 150th in the world to 61st.
A major reason why Pospisil went down in the rankings in 2019 is because he had back surgery. In 2020, he put together a record of 16 wins and 10 losses in men's singles action, and reached ATP Finals in Montpellier, France, and Sofia, Bulgaria. In the Open Sud de France in Montpellier in February, Pospisil was beaten 7-5, 6-3 to Gael Monfils of France in the final. Then in the Sofia Open in November, Pospisil lost to rising Italian star Jannik Sinner in the final, 6-4, 3-6, 7-6.
Among the notable players Pospisil beat in 2020 were his three Canadian compatriots of Milos Raonic of Thornhill, Ontario, Felix Auger-Aliassime of Montreal, Quebec, and Denis Shapovalov of Toronto, Ontario. Pospisil beat Raonic in the second round of the U.S. Open, 6-7, 6-3, 7-6, 6-3. He beat Auger-Aliassime 7-5, 7-5 in the first round of the Vienna Open, and Shapovalov 6-2, 6-3 in the second round of Montpellier.
Pospisil also beat three-time grand slam semifinalist Richard Gasquet of France twice, and former world number seven David Goffin of Belgium, 2019 U.S. Open finalist Daniil Medvedev of Russia, and 2019 Wimbledon semifinalist Roberto Bautista Agut of Spain each once. To win the award, Pospisil beat out Andrey Kuznetsov of Russia and two-time grand slam finalist Kevin Anderson of South Africa.