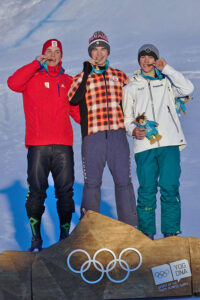 Reece Howden of Cultus Lake, British Columbia, won his second career gold medal in men's ski cross on Monday. The 22-year-old placed first in a World Cup race in Val Thorens, France. It was one of two medals won by a Canadian on Monday. In the women's World Cup race, Canadian Olympic gold medalist Marielle Thompson of North Vancouver, British Columbia placed third. Thompson won the gold medal in women's ski cross at the 2014 Olympic Winter Games in Sochi.
Howden placed ahead of silver medalist Ryan Regez of Switzerland, and bronze medalist Francois Place of France in Monday's Big Final. Howden's previous World Cup win was earlier in 2020, as he won in Nakiska on January 18.
With the gold medal, Howden now leads the World Cup standings with 225 points. He has 35 more points than David Mobaerg of Sweden, who is in second place with 190 points.
Thompson was behind gold medalist Katrin Ofner of Austria, and silver medalist Daniela Maier of Germany in Monday's Big Final for her 44th career World Cup medal. Thompson now has 206 points, which is second to only Fanny Smith of Switzerland, who leads with 325 points.
There are 13 World Cup events in ski cross scheduled this year. The 2021 World Freestyle Skiing and Snowboarding Championships in Zhangjiakou, South Korea will not go on as scheduled due to coronavirus. The event was to take place from February 18 to 28.