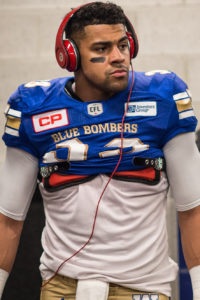 Three Canadians found the end zone for winning teams in the fourth week of he 2021 Canadian Football League season. They were Winnipeg Blue Bombers running back Andrew Harris of Winnipeg, Manitoba, Hamilton Tiger-Cats running back Sean Thomas Erlington of Montreal, Quebec, and British Columbia Lions wide receiver Jevon Cottoy of Calgary, Alberta.
Thomas Erlington had 10 rushes for 73 yards and one touchdown, along with one catch for two yards in a 27-10 Tiger-Cats win over the Montreal Alouettes on Friday in the Alouettes home opener at Percival Molson Memorial Stadium in Montreal, Quebec. Thomas Erlington's major score was a five-yard run to close out the scoring, with one minute and 20 seconds left in the game. With the win, Hamilton improves to a record for one win and two losses, and Montreal falls to a record of one win and two losses.
Cottoy had five catches for 93 yards and one touchdown in a 24-12 British Columbia Lions win over the Ottawa Redblacks on Saturday. Cottoy's touchdown was a 46-yard catch from Mike Reilly, which put the Lions up 22-12 at there time. The major came three minutes and 12 seconds into the fourth quarter, and helped the Lions improve to a record of two wins and two losses.
Harris meanwhile helped the Blue Bombers improve to a record of three wins and one loss with a 18-16 win over the Calgary Stampeders. Harris had 17 catches for 81 yards and one touchdown, along with two catches for five yards. Harris's touchdown was the first score of the game for Winnipeg, as he put the Blue Bombers up 6-3 with three minutes and 49 seconds left in the first quarter.