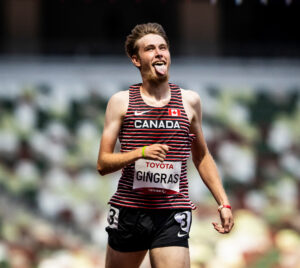 Zachary Gingras of Markham, Ontario has won Canada's 13th medal at the 2020 Paralympic Games in Tokyo in 2021. On Tuesday, Gingras, who has cerebral palsy, won the bronze medal in the men's 400 metres in the T38 classification.
Gingras had a third-place time of 50.85 seconds. He reached the podium by five one-hundredths of a second over Ali Al-Rikabi of Iraq, who had a fourth-place time of 50.90 seconds. Jose Rodolfo Chessani Garcia of Mexico won the gold medal with a time of 49.99 seconds. Mohamed Farhat Chida of Tunisia won the silver medal with a time of 50.33 seconds.
Gingras became the third Canadian Paralympian with cerebral palsy to medal at the 2020 Paralympic Games in Tokyo in 2021. Morgan Bird of Regina, Saskatchewan, and Sabrina Duchesne of Quebec City, Quebec each earned a bronze medal for Canada on Sunday in the women's 4×100 metre freestyle swimming relay. In the race, Bird and Duchesne teamed up with Katarina Roxon of Corner Brook, Newfoundland, and Aurelie Rivard of Saint-Jean-sur-Richelieu, Quebec.
Team Canada now sits in 20th place in the overall medal standings. They have 13 medals (one gold medal, seven silver medals, and five bronze medals). China currently leads the Paralympic medal standings with 132 medals, of which 62 are gold.