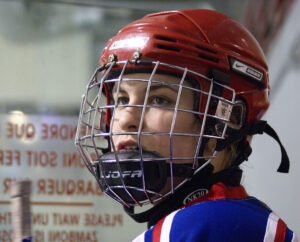 Team Canada has won the gold medal at the 2021 Women's World Hockey Championships in Calgary, Alberta. In a dramatic gold medal game on Tuesday at the Markin MacPhail Centre, Canada defeated the United States 3-2 in overtime thanks to a game-winning goal by two-time Canadian Olympic gold medalist Marie-Philip Poulin of Beauceville, Quebec.
Poulin, who won a gold medal for Canada at the 2010 Olympic Winter Games in Vancouver, and the 2014 Olympic Winter Games in Sochi, rifled a shot at 7:22 of the extra period from Canadian Olympic gold medalists Brianne Jenner of Oakville, Ontario, and Jocelyne Larocque of Ste. Anne, Manitoba. Jenner and Larocque won their Olympic gold medal at the 2014 Olympic Winter Games in Sochi.
Jenner led the team in scoring in the gold medal game with one goal and two assists for three points. Poulin and Larocque also had a multi-point game as Poulin had one goal and one assist for two points, and Larocque has two assists. The other Canadian goal scorer was Jamie Lee Rattray of Kanata, Ontario.
This was Canada's 11th Women's World Hockey Championship title. They previously won in 1990, 1992, 1994, 1997, 1999, 2000, 2001, 2004, 2007, and 2012. Of the 11 titles, six have now been in Canada. Team Canada previously won in 1990 in Ottawa, 1997 in Kitchener, 2000 in Mississauga, 2004 in Halifax, and 2007 in Winnipeg.