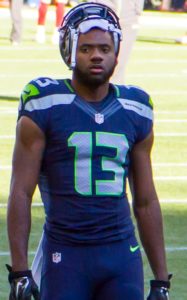 The Calgary Stampeders of the Canadian Football League signed wide receiver Chris Matthews to a contract on Tuesday. The Stampeders are currently decimated with injuries as their wide receivers DaVaris Daniels, Kamar Jorden and Eric Rogers are all out.
Matthews is returning to the CFL after having played two seasons with the Winnipeg Blue Bombers from 2012 to 2013. In 23 games with the Blue Bombers, Matthews had 95 catches for 1330 yards and eight touchdowns. In 2012, Matthews was the CFL's most outstanding rookie. He had 81 receptions for 1192 yards and seven touchdowns.
Between his time in the CFL, Matthews played four seasons in the National Football League. From 2014-2015, he was with the Seattle Seahawks and from 2015-2017, Matthews was with the Baltimore Ravens. Matthews's finest NFL game came in the 2015 Super Bowl as the Seahawks lost 28-24 to the New England Patriots. Matthews led all Seahawks receivers in receiving yards with 109, and tied with Julien Edelman of the Patriots for most receiving yards in the game.
Matthews's lone regular season touchdown came in a 20-17 Ravens win over the Pittsburgh Steelers on December 27, 2015. He had an eight yard touchdown catch from Ravens quarterback Ryan Mallett to open the scoring in the first quarter.
The Stampeders meanwhile are the only team in the CFL that has clinched a playoff spot in the Western Division to date. They currently have a record of 11 wins and two losses.