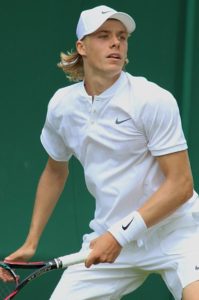 Denis Shapovalov of Toronto, Ontario delivered an impressive first round win over seventh ranked Hyeon Chung of South Korea in the first round of the Japan Open on Monday. Shapovalov defeated Chung, the 2018 Australian Open semifinalist, 6-3, 3-6, 6-2.
One area where Shapovalov was excellent on Monday was his ability to avoid being broken when Chung had a break point opportunity. Shapovalov saved six of Chung's seven break point opportunities, while Chung was only able to save two of five break point opportunities for Shapovalov when he was serving.
Shapovalov's serve was also working extremely well. He had 14 aces, while Chung only had five.
This was the second straight week that Chung lost to a Canadian. Last week at the Chengdu Open in China, Chung lost to Felix Auger-Aliassime of Montreal, Quebec in the second round by a score of 7-6, 5-7, 6-4. Auger-Aliassime reached the quarterfinals of the Chengdu Open before losing to Bernard Tomic of Australia, 6-2, 6-4.
Shapovalov is not the only Canadian who reached the second round in Tokyo. He is joined by the sixth seeded Milos Raonic of Thornhill, Ontario, who beat Adrian Mannarino of France 6-3, 6-4. Shapovalov will next play three-time grand slam champion Stanislas Wawrinka of Switzerland, while Raonic will next play Yosuke Watanuki of Japan in the second round on Wednesday.