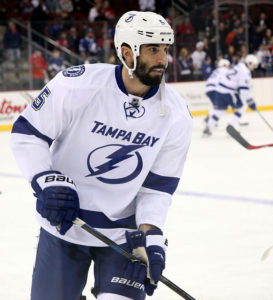 The Edmonton Oilers improved their experience on Tuesday. They agreed to terms with defenseman Jason Garrison of White Rock, British Columbia and right winger Alex Chiasson of Montreal, Quebec. Garrison came to terms on a one year deal worth $650,000 and Chiasson came to terms on a one year contract worth $625,000.
There is a possibility that Garrison and Chiasson could see regular action in the Oilers lineup this season. Edmonton is in need of depth when it comes to the blueline as Andrej Sekera is out for most of the year after injuring his Achilles in an offseason training session. Sekera required surgery as a result.
Last season. Garrison played eight games with the Vegas Golden Knights. He had one assist in eight games with four penalty minutes and was a -2. In addition to the Golden Knights, Garrison has also played for the Florida Panthers, Vancouver Canucks and Tampa Bay Lightning. He has 48 goals and 111 assists for 159 points in 538 NHL regular season games since 2008-09.
Chiasson meanwhile won a Stanley Cup with the Washington Capitals last season. In 61 regular season games, Chiasson had nine goals and nine assists for 18 points in 61 regular season games. He also added one goal and one assist for two points in 16 playoff games. In addition to the Capitals, Chiasson has played for the Dallas Stars, Ottawa Senators and Calgary Flames.
The Oilers begin their 2018-19 NHL regular season Saturday against the New Jersey Devils in Gothenburg, Sweden.