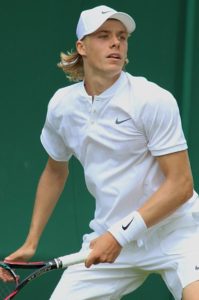 Denis Shapovalov of Toronto, Ontario and Felix Auger-Aliassime of Montreal, Quebec have each reached the semifinals of the 2019 Miami Open. On Wednesday, Auger-Aliassime upset the 11th seed Borna Coric of Croatia 7-6, 6-2 and on Thursday, Shapovalov beat the 28th ranked American Frances Tiafoe 6-7, 6-4, 6-2.
Auger-Aliassime will now face the seventh ranked John Isner of the United States in one semi-final. Shapovalov meanwhile will be up against the great Roger Federer of Switzerland, the fourth ranked player of the tournament in the other semi-final. This will be the first time ever that Shapovalov is facing Federer and Auger-Aliassime is facing Isner.
Auger-Aliassime, who is 18 years old, and Shapovalov, at 19 years old are making their mark in international tennis as teenagers. It is the first time since 2007 that two teenagers have qualified for the semifinals of the Miami Open. That year Novak Djokovic of Serbia and Andy Murray of Great Britain were each in the final four. Djokovic beat Murray 6-1, 6-0 in the semis before beating Guillermo Canas of Argentina 6-3, 6-2, 6-4 in the final.
Isner enters his match against Auger-Aliassime as the defending champion. Last year at the Miami Open, he beat Alexander Zverev of Germany 6-7, 6-4, 6-4 in the final.
Auger-Aliassime has already qualified for one ATP Final this year. In February, he reached the final of the Rio Open in Brazil before losing 6-3, 7-5 to Laslo Djere of Serbia.