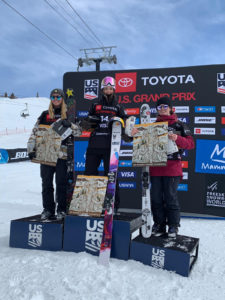 Megan Oldham of Parry Sound, Ontario has won her first career women's slopestyle skiing World Cup title. On Saturday, at only 18 years of age, Oldham won the gold medal at a World Cup event in Silvaplana, Switzerland.
Oldham posted a winning score of 84.51 points. Tess Ledeux of France won the silver medal with 77.98 points. Silvia Bertagna of Italy won the bronze medal with a score of 76.11 points.
Oldham earned a medal by 10.56 points. Sarah Hoefflin of Switzerland was in fourth place with a score of 73.95 points.
It was also a memorable victory for Oldham because with the win she won the 2018-19 Crystal Globe in women's slopestyle skiing. She finished the season with 281 points. Her Crystal Globe win came by the slimmest of margins. Due to the fact that Hoefflin did not reach the podium in Silvaplana, she only had 280 points.
This was the third time this season that Oldham reached the podium in a women's slopestyle skiing World Cup event. On January 27 in Seiser Alm, Italy, Oldham won the silver medal and on March 10 in Mammoth Mountain, California, Oldham won the bronze medal. The gold medal in Silvaplana will give Oldham confidence as she prepares for the 2022 Olympic Winter Games in Beijing.