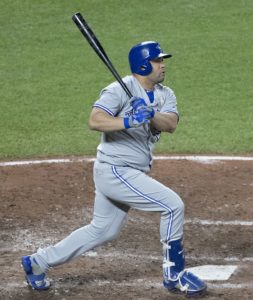 The Toronto Blue Jays  traded designated hitter Kendrys Morales to the Oakland Athletics on Wednesday. Morales will be joining his sixth Major League Baseball team. In addition to the Blue Jays, he has played for the Los Angeles Angels, Kansas City Royals, Seattle Mariners and Minnesota Twins.
Morales has spent the last two seasons with the Blue Jays. Last year he batted .249 with 21 home runs and 57 runs batted in. During his 471 plate appearances and 413 at bats, Morales scored 47 runs, 103 hits, 15 doubles, two stolen bases and 50 walks.
It appears that the Blue Jays will begin the 2019 regular season with Rowdy Terez and Billy McKinney sharing designated hitter duties. In 2018, Terez batted an impressive .314 with four home runs and 14 runs batted in as a rookie in Toronto in only 70 games. McKinney batted .252 with six home runs and 13 runs batted in during 38 games with the Blue Jays and New York Yankees.
The biggest news heading into the 2019 Major League Baseball regular season for the Blue Jays is the anticipation of third baseman Vladimir Guerrero Jr. of Montreal, Quebec. The son of former Montreal Expos star Vladimir Guerrero, one could argue that Guerrero Jr. is one of the most highly touted prospects in Blue Jays history. However his MLB debut is being delayed because of an oblique injury.
The Blue Jays begin their 2019 regular season on Thursday when they host the Detroit Tigers at Rogers Centre in Toronto, Ontario. There are no expectations for the Blue Jays this season, as it is clear they are in a rebuilding mode. How long this lasts will depend on the progression of Vladimir Guerrero Jr.