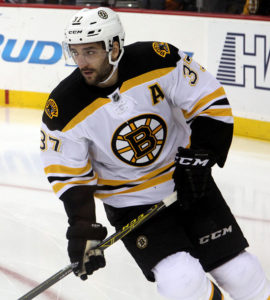 Canadian Olympic gold medalist Patrice Bergeron of L'Ancienne-Lorette, Quebec recorded his sixth career National Hockey League hat trick on Tuesday. The Boston Bruins captain scored thrice in a 4-2 Bruins win over the Philadelphia Flyers at the Wells Fargo Center in Philadelphia, Pennsylvania.
Bergeron, the veteran center who won the gold medal at the 2010 Olympic Winter Games in Vancouver, and the 2014 Olympic Winter Games in Sochi, scored the first two goals of the game. He put the Bruins on the scoreboard at 7:09 of the first period from Brad Marchand of Halifax, Nova Scotia, and Craig Smith. Bergeron then scored a power-play goal at 17:31 of the first period from David Pastrnak and Marchand to put the Bruins up 2-0. Bergeron then scored into an empty net at 19:37 of the third period from Marchand and Chris Wagner.
Even though Bergeron recorded the hat trick, it was Marchand who led the Bruins in points with four. He had one goal and three assists, including the game-winning goal. Both Marchand and Bergeron were a +3.
This was Bergeron's first hat trick of the season. His previous five hat tricks came in a 6-0 Bruins win over the Ottawa Senators on January 11, 2011, in a 7-1 Bruins win over the Carolina Hurricanes on January 6, 2018, in a 5-2 Bruins win over the New York Islanders on January 18, 2018, in a 6-3 Bruins win over the Ottawa Senators on October 8, 2018, and in a 7-4 Bruins win over the New York Rangers on October 27, 2019.
In 36 games this season, Bergeron has 15 goals and 18 assists for 33 points. He is a +12 with 12 penalty minutes, 12 power play points, two shorthanded points, one game-winning goal, 124 shots on goal, 484 faceoff wins, 22 blocked shots, 38 hits, 24 takeaways, and nine giveaways.
With the win, the Bruins improve to a record of 20 wins, 10 regulation losses, and six losses in extra time for 46 points. They are five points up on the New York Rangers and Philadelphia Flyers for a playoff spot.