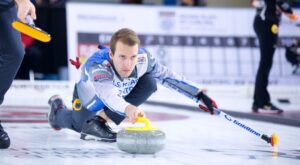 It has been a subpar last 48 hours for Team Canada at the 2021 World Men's Curling Championship in Calgary. They had a marvelous game in a 10-1 win over the United States on Monday, an average game in a 7-6 win over the Netherlands on Sunday, a below-average performance in a 6-4 loss to Switzerland on Sunday, and an awful game in a 10-9 loss to South Korea on Monday.
The win over the United States on Easter Monday morning was notable. That is because Bottcher curled 100%. The Canadian team dominated play, forcing American skip John Shuster having to make some extremely difficult shots. At the midway point, with the United States trailing Canada 10-0, Shuster was only curling 38%.
Still, one could argue it was 10 steps forward for Team Canada on Monday, and then 10 steps back. They got off to a horrible start against South Korea on Monday after third Darren Moulding and Brendan Bottcher each missed their first end shots, and ended up trailing 3-0. Canada did bounce back with six consecutive points in the eighth and ninth ends, but a very sloppy 10th end allowed the South Korean team skipped by Yeong-seok Jeong to pick up a deuce, and the one-point win.
At this time there are eight teams battling for six playoff spots. The fact that Canada lost to one of the teams outside of the top eight was huge. Norway leads the standings at 5-1. They are followed by Canada, Switzerland, Sweden, the United States, Russia, and Scotland at 5-2. Italy, which is Canada's next opponent on Tuesday afternoon, is at 4-3.