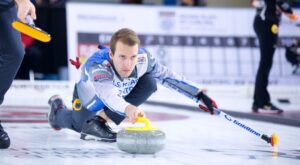 Team Canada won both of their games on Tuesday at the 2021 World Men's Curling Championship in Calgary. In the afternoon, Canada defeated Italy 7-4, and in the evening, Canada defeated China 6-5.
In both contests, Team Canada had a big three ender which changed the momentum of their games. In the game against Italy, Canada was trailing Italy 3-1 after four ends. After the Canadians tied the Italians at three points apiece in the fifth end, Italian skip Joel Retornaz came up light with his final rock in the sixth end, and allowed Canada to steal three points. Team Canada took the 6-3 lead and control of the match.
In the game against China, Chinese third Jiafeng Tian flashed with his throw in the fourth end, which ultimately allowed Canada to score three points, and take a 4-2 lead after trailing 2-1. China made things interesting in the ninth end to tie the game at five, and put pressure on Team Canada in the 10th end. There, Bottcher made an outstanding draw which gave Canada the victory.
Norway currently leads the round robin standings with seven wins and one loss. There is currently a four-way tie for second place between Sweden, Canada, the Russian Curling Federation and Scotland, at seven wins and two losses. Two more teams are above .500. The United States are at five wins and three losses, and Switzerland is at five wins and four losses.