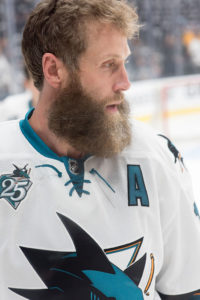 The Florida Panthers have signed Canadian Olympic gold medalist Joe Thornton of London, Ontario according to Rogers Sportsnet. The terms of the deal are for one year and $750,000.
The Panthers become Thornton's fourth National Hockey League team. He has previously played for the Boston Bruins, San Jose Sharks, and Toronto Maple Leafs.
In 44 games in 2020-21, Thornton played his first and only season with Toronto. He had five goals and 15 assists for 20 points. Thornton was a also a +6 with 14 penalty minutes, five power-play points, 42 shots on goal, 39 faceoff wins, 10 blocked shots, 32 hits, 13 takeaways and 29 giveaways.
Thornton won the gold medal for Canada at the 2010 Olympic Winter Games in Vancouver. Also while representing Canada internationally, he won the gold medal for Canada at the 1997 World Junior Hockey Championship in Geneva, Switzerland, and two World Cups in Toronto–the first in 2004 and the second in 2016.
Known for his elite playmaking skills, Thornton thrice has led the NHL for most assists in a season. He had 96 assists in 2005-06, 92 assists in 2006-07, and 67 assists in 2007-08. While with the Bruins and Sharks in 2005-06, Thornton became the first and only player in NHL history to win the Hart Trophy while playing for two different teams in a single season. Also in 2005-06, he won the Art Ross Trophy, for leading the NHL with 125 points.