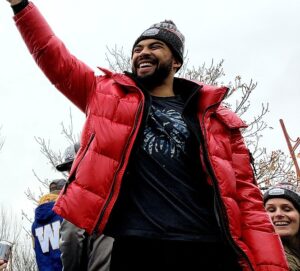 Week two is now in the books for the Canadian Football League in 2020, and two Canadians recorded touchdowns this past weekend. On Friday, Nic Demski of Winnipeg, Manitoba found the end zone in a 20-7 win over the Toronto Argonauts, and on Saturday, Mitchell Picton of Regina, Saskatchewan did the same in a 30-8 Saskatchewan Roughriders win over the Hamilton Tiger-Cats.
Demski's touchdown catch was for 15 yards and came two minutes and 45 seconds into the second half. With the major score, the Blue Bombers went up 17-7 at the time. The Blue Bombers had a short field on their way to the end zone, as moments before Argonauts running back John White fumbled the football on the Argonauts 26-yard line, which was forced by Blue Bombers linebacker Jesse Briggs of Kelowna, British Columbia. At the end of the game, Demski had eight catches for 68 yards.
Picton's touchdown catch was for eight yards, and came with 48 seconds left in the first half to put the Roughriders up 17-8 at the time. Picton had two catches for 23 yards in the game.
In other action, the British Columbia Lions defeated the Calgary Stampeders 15-9, and the Montreal Alouettes defeated the Edmonton Elks 30-13. After week two, four teams are undefeated. Montreal and Ottawa are both 1-0 in the East Division, while Saskatchewan and Winnipeg are 2-0 in the West Division.