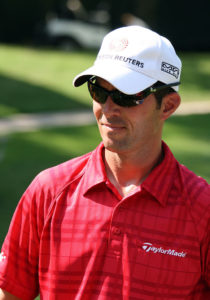 Mike Weir of Sarnia, Ontario might not have had a very good third round of the 2021 Senior PGA Championship, but the 51-year-old Masters champion from 2003 is still in the hunt. After Saturday's third round, Weir finds himself alone in third place, and three strokes back of Steve Stricker of the United States.
Weir, who is at -3, only shot a score of four-over-par 74 on Saturday in Tulsa, Oklahoma. Things looked promising for Weir after round two as he was at -7 at the time, and had a four stroke lead over Stricker, American Rocco Mediate and Germany's Alex Cejka. However, a rough patch on the back nine on Saturday saw Weir record a double bogey on the par-four 12th, and then bogeys on the 13th, 15th and 16th holes.
The one area of Weir's game where he struggled the most was his putting. The Canadian missed a few opportunities on shots near the hole.
In addition to catching Stricker, Weir will also need to catch Cejka, who is alone in second place at -5. In the first major of the season earlier this month in Alabama, Stricker defeated Cejka in a playoff to win The Tradition. Heading into the playoff, both Stricker and Cejka posted scores of -18.