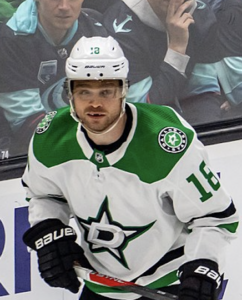 According to Rogers Sportsnet on Sunday, the Toronto Maple Leafs announced the signing of two forwards. They came to terms with left winger Tyler Bertuzzi of Sudbury, Ontario, and centre Max Domi of Winnipeg, Manitoba.
Bertuzzi signed a one-year deal worth $5.5 million. This past season he had eight goals and 22 assists for 30 points with the Detroit Red Wings and Boston Bruins. In 50 games, Bertuzzi was a -8 with 29 penalty minutes, 10 power-play points, 107 shots on goal, four faceoff wins, 22 blocked shots, 54 hits, 19 takeaways and 29 giveaways.
Domi signed a one-year deal worth $3 million. This past season he had 20 goals and 36 assists for 56 points in 80 games with the Chicago Blackhawks and Dallas Stars. Domi was a -15 with 82 penalty minutes, 19 power-play points, four game-winning goals, 179 shots on goal, 510 faceoff wins, 24 blocked shots, 22 hits, 65 takeaways and 51 giveaways. In addition to the Blackhawks and Stars, Domi has played for the Arizona Coyotes, Montreal Canadiens, Columbus Blue Jackets and Carolina Hurricanes.
Domi and Bertuzzi also have another connection, as both of their relatives played in the National Hockey League. Max Domi's father Tie Domi of Windsor, Ontario played 16 seasons from 1989 to 2006 with the Maple Leafs, New York Rangers and Winnipeg Jets. He had 2265 penalty minutes in 777 games and led the NHL in 1993-94 with 347 penalty minutes while with the Jets. Tyler Bertuzzi's uncle Todd Bertuzzi of Sudbury, Ontario played 1159 NHL games with the New York Islanders, Vancouver Canucks, Florida Panthers, Detroit Red Wings, Calgary Flames and Anaheim Ducks from 1995 to 2014.