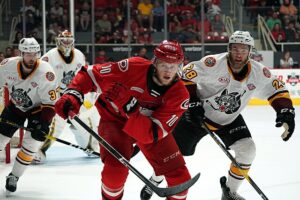 According to Rogers Sportsnet on Saturday, the San Jose Sharks traded forward Steven Lorentz of Kitchener, Ontario to the Florida Panthers. In addition to Lorentz, the Panthers received a fifth round pick in the 2025 National Hockey League Entry Draft. The Sharks received left winger Anthony Duclair of Pointe-Claire, Quebec.
Lorentz had 10 goals and nine assists for 19 points in 80 games in 2002-03 with the Sharks. He was a -18 with 16 penalty minutes, one power-play point, two shorthanded points, 111 shots on goal, 262 faceoff wins, 46 blocked shots, 133 hits, 46 takeaways and 15 giveaways. Lorentz is versatile as he can play centre and left wing. Prior to his one season with San Jose in 2022-23, Lorentz played two seasons with the Carolina Hurricanes.
Duclair is joining his seventh NHL franchise. In addition to the Panthers, he has previously played for the New York Rangers, Arizona Coyotes, Chicago Blackhawks, Columbus Blue Jackets, and Ottawa Senators. In 2022-23 with Florida, Duclair only played in 20 regular season games because of an Achilles tendon injury. He had two goals and seven assists for nine points. Interestingly, Duclair had more points in the Stanley Cup playoffs in 2023 that the 2022-23 regular season. In 20 postseason games, he had four goals and seven assists for 11 points as Florida reached the Stanley Cup Final as the eighth seed.