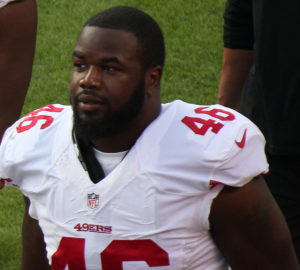 The British Columbia Lions are bringing back defensive lineman Shawn Lemon. In a trade made on Monday, the Lions acquired Lemon of Charleston, South Carolina from the Toronto Argonauts for defensive tackle Davon Coleman of Cleveland, Ohio and a conditional eighth round draft pick in the 2020 Canadian Football League Draft. 
Lemon played with the Lions in 2018. In 13 games, Lemon had 16 defensive tackles and 10 sacks. In 14 games with the Argonauts, Lemon had 15 tackles and one sack.
In nine Canadian Football League seasons, Lemon has now played for the Lions, Saskatchewan Roughriders and Argonauts on two separate occasions. He has also played for the Edmonton Eskimos, Calgary Stampeders and Ottawa Redblacks. In 98 CFL games, Lemon has 147 defensive tackles, 62 sacks, one interception and 19 forced fumbles.
On two other occasions besides 2018, Lemon reached double figures in sacks. He had 13 sacks with the Stampeders in 2014 and 14 sacks with the Argonauts in 2016. Twice Lemon has won a Grey Cup. The first time was with the Stampeders in 2014 and the second time was with the Argonauts in 2017. Lemon was also a CFL East All-Star in 2016.
Coleman is in his third CFL season. He played his first CFL season with the Hamilton Tiger-Cats in 2017 before playing his last two seasons with the Lions. This season he had 13 defensive tackles, two sacks and one interception in eight games with B.C. In 43 career games, Coleman has 111 defensive tackles, 15 sacks and three interceptions. He was a CFL All-Star with the Lions in 2018.
In other CFL news, Tiger-Cats defensive lineman Jamaal Westerman is out for the season because of a triceps injury. Westerman has not played in the CFL this season after spending three seasons with the Winnipeg Blue Bombers from 2015 to 2017 and sharing his time last season with the Montreal Alouettes and Tiger-Cats.