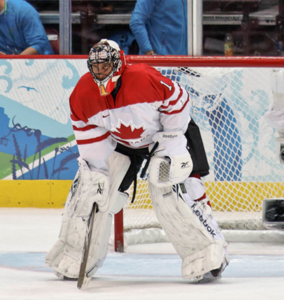 The Florida Panthers announced on Monday that they plan to the retire the no. 1 jersey of their veteran goaltender and Canadian Olympic gold medalist Roberto Luongo of Montreal, Quebec. Luongo will be the first Panthers player in franchise history to have his number retired.
Luongo retired from the National Hockey League on June 26. It did not take long for the Panthers to find a new number one goaltender as they signed Sergei Bobrovsky to a seven year deal worth $70 million on Canada Day.
Luongo played 11 seasons with the Panthers from 2000-2006 and again from 2013-19. He was originally acquired by the Panthers from the New York Islanders with Olli Jokinen for Mark Parrish and Oleg Kvasha on June 24, 2000. Luongo was then traded from the Panthers to the Vancouver Canucks with Lukas Krajicek and Sergei Shirokov for Todd Bertuzzi of Sudbury, Ontario, Alex Auld of Cold Lake, Alberta and Bryan Allen of Kingston, Ontario on June 23, 2006. Then Luongo's final trade came on March 4, 2014 when he was dealt back to the Panthers by the Canucks with Steven Anthony of Halifax, Nova Scotia for Jacob Markstrom and Shawn Matthias of Mississauga, Ontario.
In 572 games with the Panthers, Luongo had a record of 230 wins, 241 losses and 73 ties or losses in extra time. He had a goals against average of 2.99, save percentage of .919 and 38 shutouts. Luongo is the all-time leader in Panthers wins and shutouts.
In 2004, while with the Panthers, Luongo was on the NHL's second all-star team. In 2006 while with the Panthers, Luongo led the NHL with 2275 saves. He also represented the Panthers at the 2004, 2015 and 2016 NHL All-Star Games. His two gold medals for Team Canada came at the 2010 Olympic Winter Games in Vancouver and the 2014 Olympic Winter Games in Sochi.