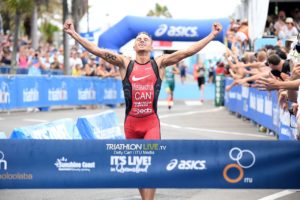 Tyler Mislawchuk of Winnipeg, Manitoba won a World Triathlon Olympic men's test event in Tokyo, Japan on Friday. The gold medal is significant because it makes Mislawchuk a serious medal contender for Canada at the 2020 Olympic Games in Tokyo.
Mislawchuk posted a winning time of one hour, 49.51 seconds. Casper Stornes of Norway won the silver medal with a time of one hour, 49.55 seconds. Hayden Wilde of New Zealand won the bronze medal with a time of one hour, 50.03 seconds.
Mislawchuk earned a medal by 34 seconds. Gustav Iden of Norway finished in fourth place with a time of one hour, 50.25 seconds.
Mislawchuk's swim time was 18 minutes and 39 seconds. He then took 42 seconds to get from the lake to his bike. Mislawchuk's cycling time was 59 minutes and 34 seconds. He then took 28 seconds to get from his bike to the running segment of the competition. Mislawchuk ran to a time of 30 minutes and 27 seconds. Mislawchuk was the seventh fastest swimmer, 24th fastest cyclist and the second fastest runner. Only Crisanto Grajales of Mexico ran a faster time than Mislawchuk at 30 minutes and 26 seconds.
Mislawchuk is currently the 10th ranked men's triathlete in the world. There are two more world cups this season in men's triathlon. They will take place in Karlovy Vary, Czech Republic on August 25 and Banyoles, Spain on September 7. There is also the 2019 World Triathlon Series Grand Final in Lausanne, Switzerland on August 31.