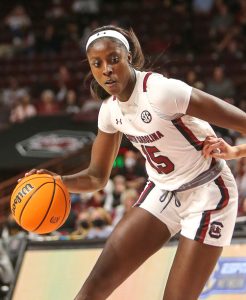 Forward Laeticia Amihere of Mississauga, Ontario has been selected in the first round of the 2023 WNBA Draft. On Monday at the draft in Spring Studios in Manhattan, New York, Amihere was drafted eighth overall by the Atlanta Dream.
Amihere, who is nicknamed the Black Queen, had a respectable four-year career while with the University of South Carolina Gamecocks. In four seasons from 2020 to 2023, Amihere averaged 6.3 points per game, 4.1 rebounds per game and one assist per game. She had a field goal percentage of .436, a three-point percentage of .264, and a free throw percentage of .625.
In 28 National Collegiate Athletic Association women's basketball games, Amihere reached double digits in scoring. She had a college basketball career-high 17 points on March 4, 2023 in an 80-51 Gamecocks win over the University of Mississippi Rebels in the Southeastern Conference tournament. Amihere was also on the 2022 Gamecocks squad that won the NCAA Women's Basketball Tournament. In the final game, the Gamecocks beat the University of Connecticut Huskies 64-49.
Amihere was one of three Gamecocks drafted in the first round. She was joined by power forward Aliyah Boston of Saint Thomas, United States Virgin Islands, who was drafted first overall, and Zia Cooke of Toledo, Ohio, who was drafted 10th overall by the Los Angeles Sparks.
It should be noted that Amihere was the second player chosen by the Dream in the first round. Guard Haley Jones of Santa Cruz, California was selected sixth overall out of Stanford University.