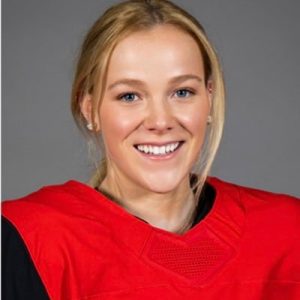 Team Canada is continuing to roll at the 2023 Women's World Hockey Championship in Brampton, Ontario. On Monday at the CCA Centre, the Canadians defeated the United States 4-3 in a shootout to finish their Group A action. As a result, Canada clinched first place in Group A with a perfect record of four wins and zero losses. However, due to a fact that Canada needed a shootout to beat the Americans, they had to settle for 11 points and did not get the maximum 12 points.
The Canadian squad got regulation goals from Canadian Olympic gold medalists Sarah Fillier of Georgetown, Ontario, Marie-Philip Poulin of Beauceville, Quebec, and Laura Stacey of Mississauga, Ontario. Poulin had a multi-point game as she also added an assist for two points. Fillier, Poulin and Stacey won the gold medal for Canada at the 2022 Olympic Winter Games in Beijing. Poulin also won the gold medal for Canada at the 2010 Olympic Winter Games in Vancouver and the 2014 Olympic Winter Games in Sochi. The shootout winner came from Canadian Olympic gold medalist Jamie Lee Rattray of Kanata, Ontario. Rattray, who scored in the ninth round of the shootout, won a gold medal at the 2022 Olympic Winter Games in Beijing.
In the third period, Canada was leading the United States 3-1 when the Americans scored a controversial goal with 39 seconds left in the third period. It appeared the Americans were clearly offside, and Canada unsuccessfully the challenged the goal call. The Americans then tied the game with four seconds left in regulation.
In a surprise, Germany beat Sweden 6-2 in Pool B play this past Thursday. That will mean Canada will play Sweden in the quarterfinals this Thursday, if Sweden beats France on Tuesday. We know the United States will play Germany in another quarterfinal game.