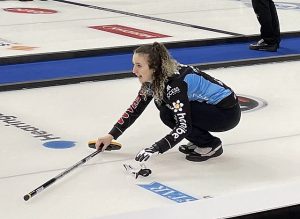 In very surprising curling news, Mackenzie Zacharias of Winnipeg, Manitoba is planning to take a leave of absence from high-level curling according to TSN on Monday. This past year Zacharias was the second for Canadian Olympic gold medalist Jennifer Jones. The team won the Manitoba Scotties Tournament of Hearts in East St. Paul, Manitoba and then reached the 2023 Scotties Tournament of Hearts final in Kamloops, British Columbia, before losing to Team Canada's Kerri Einarson 10-4 in the championship final. In the final, Zacharias curled an impressive 88%.
Zacharias attended the University of Manitoba in the Kinesiology program, and has worked as a kickboxing fitness trainer. She has reportedly wanted to focus on her career.
The reason why this is so surprising is because Zacharias was considered one of Canada's best young up and coming female curlers and has put together an excellent resume so far. Her most notable accolades include winning the gold medal at the 2020 World Junior Curling Championship in Krasnoyarsk, Russia, and winning the 2022 Manitoba Scotties Tournament of Hearts in Carberry, Manitoba. Zacharias then skipped Team Manitoba at the 2022 Scotties Tournament of Hearts in Thunder Bay, Ontario.
At this time, it appears Mackenzie Zacharias's sister Emily will continue on with Team Jones in 2023-24. She will be joined by Karlee Burgess and Lauren Lenentine.
Jones won the gold medal in women's curling at the 2014 Olympic Winter Games in Sochi. Later this month she will team up with her husband, Brent Laing of Meaford, Ontario, to represent Canada at the 2023 World Mixed Doubles Curling Championship in Gangneung, South Korea.