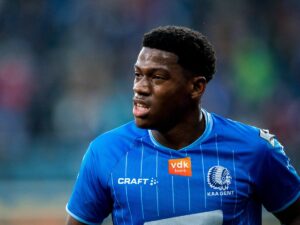 It might have been a slow start for Jonathan David of Ottawa, Ontario in his first season in Ligue 1. While playing for Lille in the top professional soccer league in France, the Canadian striker did not have a goal in his first 10 games.
However, over the last 18 games, David has scored nine goals. He is averaging one goal every two games. On Wednesday, David had his second multi-goal game of the season as Lille defeated Marseille 2-0. David's other multi-goal game came in a 2-0 Lille win over FC Nantes on February 7.
David's other five goals in Ligue 1 action came in a 4-0 win over FC Lorient on November 22, in a 2-1 win over Monaco on December 6, in a 2-1 win over Stade Reims on January 17, in a 1-0 win over Stade Rennais on January 24, and in a 3-0 win over Bordeaux on February 3. Also this season, David has two assists. He helped set up Yusuf Yazici of Tukey in the four-goal win over FC Lorient on November 22, and then Jonathan Ikone in a 3-2 Lille win over Montpellier on December 23.
Lille leads the Ligue 1 standings at the moment with 62 points. They have two more points than second-place Paris Saint-Germain. David is tied for the Lille lead in goals with nine. He is tied with Burak Yilmaz of Turkey. Paris Saint-Germain has dominated Ligue 1 in recent years as they have seven of the last eight French League championships.
Now the question is if David, and Alphonso Davies of Edmonton, the star defender for Bayern Munich in the Bundesliga, will represent Canada in the men's Olympic qualifying soccer tournament later this month in Mexico. Canada is to play El Salvador on March 19, Haiti on March 22, and Honduras on March 25. Canada must finish in the top two in the tournament to qualify for the 2020 Olympic Games in Tokyo in 2021. David and Davies are eligible because they are both under 23 years of age.