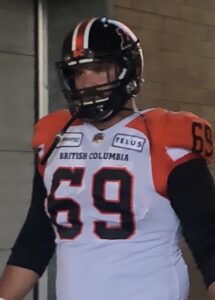 On Monday, the Saskatchewan Roughriders came to terms with offensive lineman Brett Boyko of Saskatoon, Saskatchewan according to TSN. The Roughriders will be the second Canadian Football League team Boyko has played for. In addition to the Roughriders, he has played for the British Columbia Lions.
The 28-year-old will now get the chance to play professional football in his home province. Boyko played in 15 games with the Lions in the 2019 CFL season. At 6'7″, 305 pounds, he should provide a significant presence on the Roughriders' offensive line.
Boyko was initially selected in the second round, 14th overall, by the Lions in the 2015 Canadian Football League Draft. He initially played his high school football with the St. Joseph Guardians in Saskatoon, and then played his collegiate football with the University of Nevada-Las Vegas Rebels.
Even though Boyko was drafted by the Lions six years ago, he did not play in the Canadian Football League right away. He was on the Philadelphia Eagles practice squad for a year before signing with the San Diego Chargers on June 2, 2016. After not playing with the San Diego Chargers in 2016, he played one game with the Los Angeles Chargers in 2017. Boyko was on the field for two special teams snaps in a 14-7 Chargers win over the New York Jets on Christmas Eve.