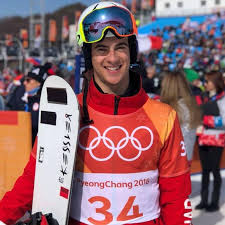 Eliot Grondin of Levis, Quebec won his first career Word Cup men's snowboarding race on Thursday. Grondin placed first at a competition in Bakuriani, Georgia.
Grondin placed ahead of silver medalist Lukas Pachner of Austria, and bronze medalist Lorenzo Sommariva of Italy. On January 23, Grondin won his second career World Cup medal when he won the silver at Chiesa in Valmalenco, Italy. Grondin also won the bronze medal in men's snowboard cross at the 2021 World Snowboarding Championships in Idre Fjall, Sweden, and a silver medal in Big White, British Columbia on January 25.
In Thursday's race in Georgia, Grondin finished second in the fourth qualification heat behind Glenn de Blois of the Netherlands. He then won the second quarterfinal, first semifinal, and then the big final.
This was the fourth of six World Cup men's snowboard cross competitions this season. On Friday in Bakuriani, Omar Visintin of Italy won the gold medal, Kalle Koblet of Switzerland won the silver medal, and Alessandro Haemmerle of Austria won the bronze medal. Grodin is in second place in the men's World Cup snowboardcross standings. At 268 points, he is only behind Haemmerle, who has 330 points.
There is one more World Cup men's snowboardcross competition this season. That will be in Veysonnaz, Switzerland on March 20. The World Cup gold medal for Grondin will give him confidence as he prepares for the 2022 Olympic Winter Games in Beijing.