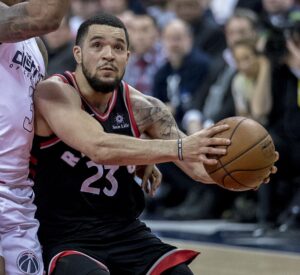 According to Julia Kreuz of Yahoo! Sports on Monday, Toronto Raptors point guard Fred VanVleet was named the National Basketball Association Eastern Conference player of the week. In four games, VanVleet averaged 30.3 points per game, 6.5 assists per game, 4.8 rebounds per game.
On January 4, in a 129-104 win over the San Antonio Spurs, VanVleet made 12 of 23 field goals and had 33 points, seven assists and two steals. Then on the second game of a back-to-back in a 117-111 Raptors win over the Milwaukee Bucks in Wisconsin on January 5, he had 19 points, five assists and three rebounds.
VanVleet's best game of the week would come on January 7, in a 122-108 Raptors win over the Utah Jazz. In the 14-point Raptors win, VanVleet had the first triple double of his career, as he had 37 points, 10 assists and 10 rebounds. Then on Sunday in a 105-101 Raptors win over the New Orleans Pelicans, VanVleet had 32 points, four assists and four rebounds.
So far in 2021-22, VanVleet has been a workhorse. He leads the NBA with 37.7 minutes per game, and during that time has averaged a career-high 22 points per game. The Raptors meanwhile are at 20 wins and 18 losses, and are in eighth place in the Eastern Conference at the moment. After a narrow 99-95 loss to the Phoenix Suns on Tuesday, they next play the Detroit Pistons on Friday.