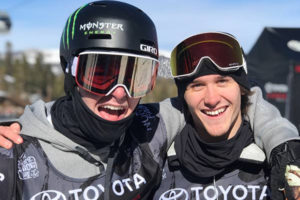 Evan McEachran of Toronto, Ontario, won his fourth career World Cup medal on Sunday. McEachran placed third at a World Cup men's slopestyle skiing event at Mammoth Mountain, California.
McEachran posted a score of 93 points. Alexander Hall of the United States won the gold medal with 95.5 points. Nicholas Goepper of the United States won the silver medal with 94.75 points. McEachran meanwhile reached the podium by two points over Mac Forehand of the United States, who had 91 points in fourth place.
in the World Cup men's slopestyle skiing standings, McEachran is in ninth place with 60 points. Hall leads with 111 points. The top Canadian is Max Moffatt of Guelph, Ontario, who is in fourth place with 95 points.
Of McEachran's four World Cup medals in his career, three have been in slopestyle skiing. The other two were a silver medal in Stubai, Austria on November 26, 2017, and a bronze medal at Mammoth Mountain on January 21, 2018. McEachran's other World Cup medal was a silver medal in men's big air skiing from  Cardrona, New Zealand on September 7, 2018.
This was the second last men's slopestyle skiing World Cup before the 2022 Olympic Winter Games in Beijing. The last will be in Font Romeu, France on January 16. Also before the OlympIc Games, the world's best slopestyle skiers have the 2022 Winter X Games in Aspen, Colorado. They will be competing on January 23.