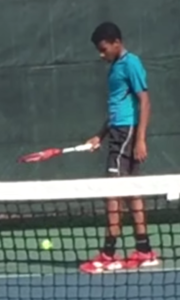 Felix Auger-Aliassime of Montreal, Quebec and Denis Shapovalov of Toronto, Ontario are in the men's quarterfinals of the 2019 Miami Open. On Tuesday, Auger-Aliassime beat Nikoloz Basilashvili of Georgia, the 17th seed, 7-6, 6-4, and on Wednesday, Shapovalov, the 20th seed, upset the eighth seed, Stefanos Tsitsipas of Greece, 4-6, 6-3, 7-6 in the round of 16.
Basilashvili is one of two seeded players Auger-Aliassime has beaten in the 2019 Miami Open. He also beat Marton Fucsovics of Hungary, the 29th seed, 6-4, 4-6, 6-0 in the second round. Auger-Aliassime will now play Boran Coric, the 11th seed from Croatia in the quarterfinals on Wednesday.
Even though this will be Coric's first time playing Auger-Aliassime, he has had success against Shapovalov and Canadian tennis player Vasek Pospisil of Vernon, British Columbia. Coric beat Shapovalov in the first round of the 2018 Davis Cup and the round of 16 of the 2018 Miami Open. Coric also beat Pospisil at the 2018 Davis Cup and the first round of the 2018 Rogers Cup in Toronto.
Shapovalov's win over Tsitsipas was significant. It was the first time since upsetting Rafael Nadal of Spain in the round of 16 at the 2017 Rogers Cup in Montreal, that Shapovalov beat a top 10 ranked player. It was also the second time that Shapovalov has beaten Tsitsipas as he beat the Greek in the first round of the 2018 Australian Open in straight sets, 6-1, 6-3, 7-6.
Shapovalov will now play American Frances Tiafoe, the 28th seed, in the quarterfinals of the Miami Open on Thursday. Shapovalov has beaten Tiafoe before in the first round of the 2018 Cincinnati Masters, 7-6, 3-6, 7-5.
The 2018 Miami Open was also a strong tournament for Canadian rookie sensation Bianca Andreescu of Mississauga, Ontario. Just three days after winning Indian Wells, Andreescu reached the fourth round of the Miami Open before losing to the 21st seed, Anett Kontaveit of Estonia. Along the way, Andreescu beat two seeded players. In the second round, Andreescu beat the 32nd ranked Sofia Kenin of the United States, 6-3, 6-3, and in the third round, Andreescu upset German star Angelique Kerber 6-4, 4-6, 6-1.