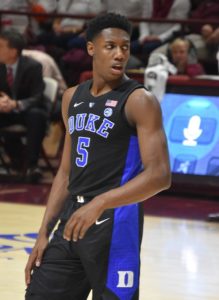 Seven Canadians have qualified for the sweet 16 of the 2019 NCAA Basketball Tournament. They are Duke shooting guard R.J. Barrett of Toronto, Ontario, Michigan small forward Ignas Brazdeikis of Oakville, Ontario, Tennessee forward Kyle Alexander of Milton, Ontario, Virginia Tech guards Jonathan Kabongo and Nickeil Alexander-Walker of Toronto, Ontario, Gonzaga center Brandon Clarke of Vancouver, British Columbia and Florida State forward Mfiondu Kabengele.
Barrett scored the game winning shot in a dramatic 77-76 win over Central Florida in the second round on Sunday. He had 16 points over the Knights and a team high 26 points on Friday in an 85-62 win over North Dakota State.
Brazdeikis had 14 points in a 74-55 Michigan win over Montana on Thursday and five points in a 64-49 win over Florida on Saturday. Alexander had two points in a 77-70 win over Colgate on Friday and eight points in a 83-77 overtime win over Iowa on Sunday. Alexander-Walker had 20 points in a 66-52 win over Saint Louis on Friday and had six points in a 67-58 win over Liberty on Sunday. Clarke had 12 points in a 87-49 win over Farleigh Dickinson on Thursday and 36 points in a 83-71 win over Baylor on Saturday. While Kabengele had 21 points in a 76-69 win over Vermont on Thursday and 22 points in a 90-62 win over Murray State on Saturday.
In the sweet 16 on Thursday, Florida State plays Gonzaga, Tennessee plays Purdue and Texas Tech plays Michigan. Then on Friday, Duke plays Virginia Tech.