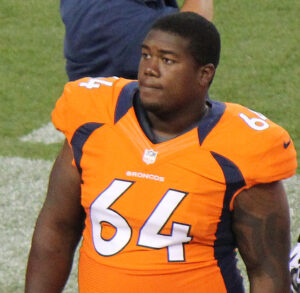 According to the Canadian Football League website, the Toronto Argonauts have signed offensive lineman Philip Blake of Toronto, Ontario, and wide receiver DaVaris Daniels of Vernon Hills, Illinois to a contract on Sunday. Blake is coming to the Argonauts from the Saskatchewan Roughriders, while Daniels played 2019 with the Edmonton Football Team.
Blake has spent the last five seasons in the CFL. He was with the Montreal Alouettes from 2015 to 2018, and then with the Saskatchewan Roughriders in 2018 and 2019. Blake was in fact traded during the 2018 CFL season from the Alouettes to the Roughriders with full back Patrick Lavoie of Sainte-Flavie, Quebec for wide receiver Joshua Stanford, and a second-round draft pick in the 2020 Canadian Football League Draft. The Alouettes selected defensive lineman Cameron Lawson of Caledon, Ontario. In the National Football League, Blake was also drafted by the Denver Broncos in 2012 and was on the practice squad for the Arizona Cardinals.
Daniels is in his fifth Canadian Football League season. In 2019, he caught 54 passes for 738 yards and two touchdowns with Edmonton. On August 23, 2019, Daniels had the best game of his CFL career. He caught 10 passes for a career-high 207 yards in a 34-28 Edmonton loss to the Winnipeg Blue Bombers. In Daniels's career, he has had 202 catches for 3113 yards and 22 touchdowns. Daniels's finest CFL season was his rookie season of 2016 in Calgary. That year he had 51 catches for a career-high in yards (885), and touchdown catches (nine), and was the CFL's most outstanding rookie. In 2018, Daniels was on the Stampeders team that won the Grey Cup.