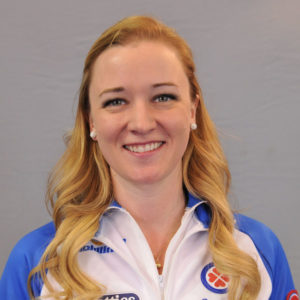 According to Devin Heroux of CBC Sports, Chelsea Carey of Winnipeg, Manitoba will be taking over skipping duties of Team Fleury during the 2021 Scotties Tournament of Hearts in Calgary. That is because Tracy Fleury's daughter is suffering from a rare form of epilepsy, and Fleury has decided not to enter the Calgary bubble this year, so she could spend more time with her.
Carey has won the Scotties Tournament of Hearts twice representing Alberta. Now she will be competing in Alberta, but representing one of the three Wildcard teams from her native province of Manitoba in the Canadian National Women's Curling Championship later this month.
Carey's first Scotties Tournament of Hearts title came in 2016, when she beat Northern Ontario's Krista McCarville 7-6 in Grande Prairie. She then beat Ontario's Rachel Homan 8-6 in the 2019 Scotties Tournament of Hearts Final from Sydney, Nova Scotia.
Carey joins a team that includes third Selena Njegovan, second Liz Fyfe, and lead Kristin MacCuish. Despite winning the Scotties twice in the last five years, her team dismantled after the 2019-20 season. Carey's third Sarah Wilkes became the second for Rachel Homan. While her front end, second Dana Ferguson, and lead Rachelle Brown, joined Alberta's Kelsey Rocque. The 2021 Scotties Tournament of Hearts starts February 20.