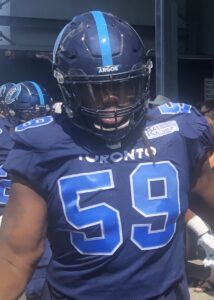 According to the Canadian Football League on Sunday, the Edmonton Football Team has signed offensive lineman Randy Richards of Kingston, Jamaica. The Edmonton Football Team will be Richards's fourth CFL team. Richards previously played for the Saskatchewan Roughriders in 2015, the Calgary Stampeders from 2015 to 2018, and the Toronto Argonauts in 2019.
Richards, who is 30 years of age, won a Grey Cup with the Calgary Stampeders in 2018. In the 106th Grey Cup Championship, the Stampeders defeated the Ottawa Redblacks 27-16. Interestingly, the Grey Cup game was played in Commonwealth Stadium in Edmonton in 2018, the same stadium Richards will play his home games in 2021, if there happens to be a CFL season.
Richards brings versatility to the Eskimos offensive line. Even though he has played primarily as right tackle, he did play a brief time with the Stampeders at left tackle.
At 30 years of age, Richards is 6'3″, 305 pounds. A product of Missouri State, signed with the San Diego Chargers and Tampa Bay Buccaneers in 2013. However, he was only on the practice squad for both of the aforementioned National Football League teams and did not see any actual game action. In an interesting note, wide receiver Davaris Daniels went from Edmonton to Toronto via free agency also on Sunday.