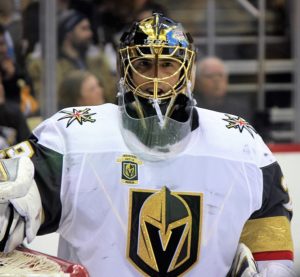 There will be 18 Canadians participating at the 2019 National Hockey League All-Star Game in San Jose, California on January 26. They are New York Islanders center Mathew Barzal of Coquitlam, British Columbia, San Jose Sharks defenseman Brent Burns of Barrie, Ontario, Ottawa Senators defenseman Thomas Chabot of Sainte-Marie, Quebec, Pittsburgh Penguins center Sidney Crosby of Cole Harbour, Nova Scotia, Minnesota Wild goaltender Devan Dubnyk of Regina, Saskatchewan, Los Angeles Kings defenseman Drew Doughty of London, Ontario, Vegas Golden Knights goaltender Marc-Andre Fleury of Sorel, Quebec, Philadelphia Flyers center Claude Giroux of Hearst, Ontario, New Jersey Devils left winger Taylor Hall of Calgary, Alberta, Washington Capitals goaltender Braden Holtby of Lloydminster, Saskatchewan, Pittsburgh Penguins defenseman Kris Letang of Montreal, Quebec, Colorado Avalanche center Nathan MacKinnon of Halifax, Nova Scotia, Edmonton Oilers center Connor McDavid of Richmond Hill, Ontario, St. Louis Blues center Ryan O'Reilly of Clinton, Ontario, Winnipeg Jets center Mark Scheifele of Kitchener, Ontario, Buffalo Sabres left winger Jeff Skinner of Toronto, Ontario, Tampa Bay Lightning center Steven Stamkos of Markham, Ontario and Toronto Maple Leafs center John Tavares of Mississauga, Ontario.
Burns, Doughty, Fleury and McDavid will represent the Pacific Division. Dubnyk, MacKinnon, O'Reilly and Scheifele will represent the Central Division. Barzal, Crosby, Giroux, Hall, Holtby and Letang will represent the Metropolitan Division. Chabot, Skinner, Stamkos and Tavares will represent the Atlantic Division. McDavid and MacKinnon were voted in as captains.
Of all the Canadians selected, McDavid and MacKinnon have the most points with 66. They are tied for third in the NHL, behind Nikita Kucherov of the Tampa Bay Lightning (72 points) and Mikko Rantanen of the Colorado Avalanche (68 points). Johnny Gaudreau of the Calgary Flames also has 66 points.
However, the best Canadian NHL all-star in 2018-19 has been a goaltender. Fleury has been brilliant as he leads the NHL in wins (25) and shutouts (six), and is not only a Vezina Trophy favourite, but a Hart Trophy candidate.