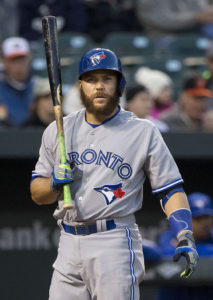 The Toronto Blue Jays traded Russell Martin of East York, Ontario to the Los Angeles Dodgers on Friday. In return, the Blue Jays acquired prospects Ronny Brito (a shortstop) and Andrew Sopko (a right handed pitcher).
Martin had been with the Blue Jays from 2015-2018, and was an all-star with Toronto when they reached the postseason during the 2015 Major League Baseball regular season. That season he had a career high 23 home runs, and batted .240 with 77 runs batted in.
The 2018 regular season was a tough one for Martin. He only batted .194 with 10 home runs and 25 runs batted in.
Martin is returning to the Dodgers. He was with Los Angeles for his first five seasons from 2006-2010, and was an all-star in back-to-back years in 2007 and 2008. Martin would go on to play for the New York Yankees and Pittsburgh Pirates before joining the Blue Jays in 2015.
Also on Friday, the Blue Jays had their most significant free agent signing in the offseason. They acquired David Phelps from the Seattle Mariners as a free agent. A relief pitcher, Phelps missed 2018 because of an elbow injury. In 2017, he was very effective for the Mariners and Miami Marlins, In 54 games, he had a record of four wins, five losses, an earned run average of 3.40, 62 strikeouts and 26 walks.