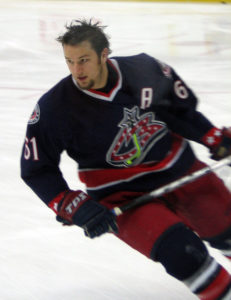 Canadian Olympic gold medalist Rick Nash of Brampton, Ontario has retired from the National Hockey League at age 34 on Friday. The reason for his retirement was because of concussion like symptoms.
Nash won a gold medal for Canada in men's hockey at the 2010 Olympic Winter Games in Vancouver and the 2014 Olympic Winter Games in Sochi. At the 2010 Olympic Winter Games in Vancouver, Nash had two goals and three assists for five points and at the 2014 Olympic Winter Games in Sochi, Nash had one assist in six games.
Nash also won the gold medal for Canada at the 2007 World Men's Hockey Championship in Moscow, Russia. It was a tremendous international hockey tournament for Nash as the power forward who was considered one of the best left wingers in hockey during his prime, was the tournament's most valuable player. He had six goals and five assists for 11 points.
In 1060 NHL regular season games with the Columbus Blue Jackets, New York Rangers and Boston Bruins from 2002-2018, Nash had 437 goals and 368 assists for 805 points. He also had 18 goals and 28 assists for 46 points in 89 playoff games.
On an individual basis, Nash played in six NHL All-Star Games. He also won the 2004 Maurice Rocket Richard Trophy for leading the NHL with 41 goals, a Blue Jackets single season record. Nash also holds the Blue Jackets record for most career regular season games (674), goals (289), assists (258) and points (547).