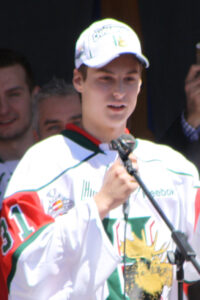 Zach Fucale of Laval, Quebec made Washington Capitals franchise history on Thursday by becoming the first Capitals goaltender to record as shutout in his first National Hockey League game according to ESPN. He accomplished the feat in a 2-0 Capitals win over the Detroit Red Wings.
In all, there have been 26 goalies to have a shutout in their very first NHL game. The last Canadian to accomplish the feat was Canadian Olympic gold medallist Mike Smith of Kingston, Ontario, who was with the Dallas Stars on October 21, 2006, when they blanked the Phoenix Coyotes 4-0.
On Thursday, Fucale made 21 saves. He made 11 saves in the first period. four saves in the second period, and six saves in the third period. Dylan Larkin led the Red Wings with four shots on goal. Offensively, Washington got goals from Dmitry Orlov, and former Montreal Canadiens center Lars Eller.
Fucale was initially drafted by the Canadiens in the second round, 36th overall, in the 2013 NHL Entry Draft. He was in fact the first NHL goaltender taken in the draft that year. He played in the organizations of the Canadiens, Vegas Golden Knights, and Tampa Bay Lightning, but did not play a NHL game until Thursday.
With the win, the Capitals improved to a record of seven wins, two regulation losses, and four losses in extra time for 18 points. They are in second place in the Metropolitan Division. and two points back of the Carolina Hurricanes.