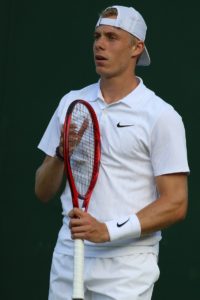 Denis Shapovalov of Toronto, Ontario has reached the fourth final of his tennis career. On Friday, Shapovalov defeated fellow Canadian Felix Auger-Aliassime of Montreal, Quebec 6-4, 7-5 in the semifinals of the 2021 Stockholm Open.
Shapovalov is trying to win the Stockholm Open for the second time in his career. He previously beat Filip Krajinovic of Serbia 6-4, 6-4 in the 2019 Stockholm Open final. The two ATP events where Shapovalov reached a final and lost came at the 2019 Paris Masters, where he lost to 20-time grand slam champion and six-time Paris Masters champion Novak Djokovic of Serbia, 6-3, 6-4, and the 2021 Geneva Open Final in Switzerland, where Shapovalov lost 7-6, 6-4 to Casper Ruud of Norway.
In an interesting note, when Djokovic beat Shapovalov to win the 2019 Paris Masters, it was the second time in his career he beat a Canadian in the final. Djokovic previously beat Milos Raonic of Thornhill, Ontario 6-2, 6-3 in the 2014 Paris Masters Final. Djokovic has the record for the most Paris Masters titles with six. Earlier this month, he beat Daniil Medvedev of Russia 4-6, 6-3, 6-3 in the final.
Shapovalov meanwhile, will be facing unranked American Tommy Paul in the 2021 Stockholm Open final. Paul beat fellow American Frances Tiafoe in the other semifinal on Friday, 5-7, 7-6, 6-4. This will be Paul's first ATP Final, and first time he will have ever faced Shapovalov.