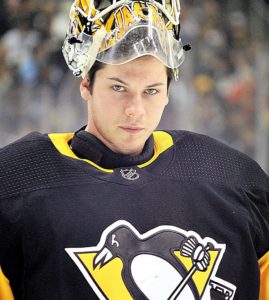 Tristan Jarry of Surrey, British Columbia picked up his seventh National Hockey League shutout on Saturday. The 26-year-old Pittsburgh Penguins netminder backstopped the Penguins to a 3-0 win over the Washington Capitals at the Capital One Arena in Washington, District of Columbia.
Jarry made eight saves in the first period, 11 saves in the second period, and five saves in the third period for 24 saves overall. Three Capitals led the team with three shots on goal each. They were Anthony Mantha of Longueuil, Quebec, Justin Schultz of Kelowna, British Columbia, and Lars Eller.
Offensively for the Penguins, Pittsburgh got two goals from Bryan Rust, and another from Jeff Carter of London, Ontario. Heading into the game, the Penguins and Capitals were tied for first place in the East Division with 69 points. Now the Penguins are two points up, and in first place by themselves with 71 points.
This was Jarry's second shutout this season. The first came on April 25 in a 1-0 Pittsburgh win over the Boston Bruins. In 36 games in 2020-21, Jarry has a record of 23 wins, nine regulation losses, three losses in extra time, a goals-against average of 2.67, and a save percentage of .912. All seven of Jarry's seven career NHL shutouts have been with the Penguins.