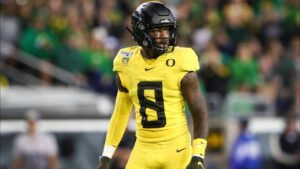 The 2021 National Football League Draft took place this past weekend, and the highest-drafted safety was Jevon Holland of Coquitlam, British Columbia. Holland, a junior from the University of Oregon Ducks, was selected in the second round, 36th overall, by the Miami Dolphins.
Holland did not play this past season because of coronavirus concerns. In two college football seasons with the Ducks, he had 108 tackles (71 solo tackles and 37 assisted tackles), nine interceptions for 72 yards and one touchdown, 10 pass deflections, and 4.5 tackles for a loss. The interception for a touchdown was for 19 yards, and came in a 37-35 Oregon win over Washington State on October 26, 2019.
In all, four Canadians were selected in the 2021 NFL Draft. In the third round, the Washington Football Team drafted cornerback Benjamin St-Juste of Montreal, Quebec, 74th overall out of the University of Minnesota. Also in the third round, 77th overall, the Los Angeles Chargers drafted wide receiver Josh Palmer of Brampton, Ontario out of the University of Tennessee, and in the fourth round, 126th overall, the Carolina Panthers drafted Chuba Hubbard of Sherwood Park, Alberta out of Oklahoma State University.
In 2020, St-Juste had 14 tackles and one pass deflection. Also this past season, Palmer had 33 catches for 475 yards and four touchdowns. Hubbard meanwhile had 133 rushes for 625 yards and five touchdowns, along with eight catches for 52 yards and one touchdown in 2020.