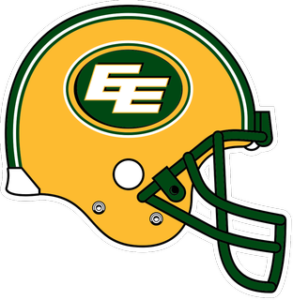 The Edmonton Eskimos ended a four game losing streak on Saturday with an important 21-16 win over the Ottawa Redblacks. During the five point Eskimos win, Tevaun Smith of Toronto, Ontario caught a 17 yard touchdown pass in the fourth quarter from quarterback Logan Kilgore.
The catch was Smith's only reception throughout the contest. He had two attempts come his way. On the season, Smith has 38 catches for 416 yards and four touchdowns.
Prior to the Eskimos win over the Redblacks, they had not won since August 16 when they beat the Toronto Argonauts 41-26. In that time, the Eskimos lost 34-28 to the Winnipeg Blue Bombers on August 23, 25-9 to the Calgary Stampeders on September 2, 33-17 to the Stampeders on September 7 and 30-27 to the Hamilton Tiger-Cats on September 20.
The next Eskimos game is in the province of Ontario with Hamilton being the destination. It is a province that the Eskimos have a perfect record of two wins and zero losses in so far in 2019. However, the Eskimos will have to battle a Tiger-Cats team that has the best record in the CFL at 11 wins and three losses.
In other week 16 action, the Tiger-Cats beat the Winnipeg Blue Bombers 33-13, the Saskatchewan Roughriders beat the Toronto Argonauts 41-16 and the British Columbia Lions beat the Montreal Alouettes 25-23. The Lions and Alouettes game had a dramatic finish, as the Alouettes fumbled the football near the goal line with a chance to take the lead.