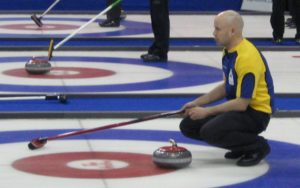 After day three of the 2021 Tim Hortons Brier at Markin MacPhail Centre in Calgary, there are three teams undefeated. Kevin Koe's second-ranked Wildcard team of Calgary, Alberta, has a record of four wins and zero losses, while Manitoba's Jason Gunnlaugson of Winnipeg and the third-ranked Wildcard team currently skipped by Wayne Middaugh of Brampton, Ontario, has a record of two wins and zero losses.
Koe, who is a two-time World Champion (2010 in Cortina d'Ampezzo, Italy, and 2016 in Basel, Switzerland), defeated two Atlantic Canada-based teams on Sunday. The first game was a 12-5 win over Prince Edward Island, and the second win was a 9-7 victory over Team Canada's Brad Gushue, who is based out of St. John's, Newfoundland.
Koe's win over Gushue was significant as both the second-ranked Wildcard team and Team Canada are considered two of the favourites at the 2021 Tim Hortons Brier. In Koe's win over Gushue, he had two ends where he scored three points each. He initially scored three points in the second end to go up 3-2, and then went up 9-7, after trailing 7-6 after nine ends.
Gunnlaugson and Middaugh each lead Pool A. Gunnlaugson did not play on Sunday, while Middaugh's wildcard team defeated Yukon by a score of 12-2.