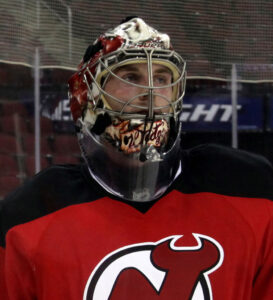 Scott Wedgewood of Brampton, Ontario notched his fourth career National Hockey League shutout on Sunday and second of the season, as the New Jersey Devils upset the Boston Bruins 1-0 from the Toronto Dominion Garden in Boston, Massachusetts. Wedgewood was simply magnificent as he shutdown the Boston Bruins, making 40 saves in the process.
Wedgewood made 12 saves in the first period, 10 saves in the second period, and 18 saves in the third period. David Pastrnak of Havirov, Czech Republic had 10 shots on goal, but could not beat Wedgewood.
Kyle Palmieri of Smithtown, New York, scored the lone goal of the game for the Devils at 15:23 of the third period. Pavel Zacha of Brno, Czech Republic. and Canadian Olympic gold medalist P.K. Subban of Toronto, Ontario, each picked up the assists. Subban won the gold medal for Canada at the 2014 Olympic Winter Games in Sochi.
Wedgewood has a record this season of two wins, three regulation losses, and one loss in extra time, with a goals against average of 2.33, and a save percentage of .933. Wedgewood's previous shutout this season came on January 24, as he blanked the New York Islanders 2-0. Wedgewood's first NHL shutout came on March 24, 2016, in a 3-0 Devils win over the Pittsburgh Penguins. He then had 27 saves on December 2, 2017, in a 5-0 Arizona Coyotes win over the Devils.