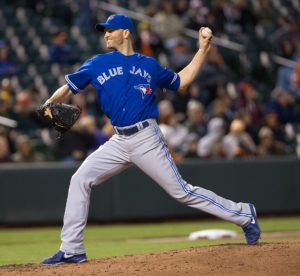 Toronto Blue Jays starting pitcher J.A. Happ recorded the save for the American League in an 8-6 win over the National League in a very interesting 2018 Major League Baseball All-Star Game from Washington, D.C. on Tuesday. Something that was fascinating about Happ's All-Star Game save is that he has never had a save in 272 Major League Baseball games.
It did not start great for Happ as he gave up a first pitch home run to Cincinnati Reds first baseman Joey Votto of Toronto, Ontario to lead off the 10th inning. Votto's home run was one of 10 in the game, a MLB All-Star Game record. After the home run, Happ settled down as he struck out Milwaukee Brewers left fielder Christian Yelich, forced Colorado Rockies center fielder Charlie Blackmon to ground out to first base and then forced Milwaukee Brewers right fielder Lorenzo Cain to fly out to right field. It should be noted that Seattle Mariners right fielder Mitch Haniger made a very nice running catch to give the American League the two run win.
For Votto, the home run was his first MLB all-star game hit. He previously had 12 all-star game at bats and was zero for 12.
Happ meanwhile is the most likely Blue Jays player to be traded at the deadline. At 35 years of age, he is a free agent at the end of the season. The team the most interested at this time seems to be the New York Yankees. However do not be shocked if Happ ends up in the National League where eight teams are currently in contention for a playoff spot and many need starting pitching help.