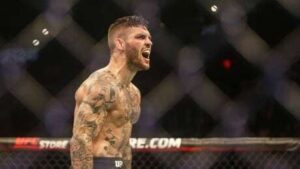 Gavin Tucker of St. Anthony, Newfoundland won on the preliminary card of UFC 256 from the UFC Apex in Las Vegas, Nevada on Saturday night. He defeated Billy Quarantillo of the United States by a unanimous decision in the men's featherweight division.
Each of the three judges had Tucker winning 30-27. With the win, Tucker improves to an overall record of 13 wins and one loss. Only once has Tucker been beaten. His only loss came in UFC 215, when he was beaten by American Rick Glenn on September 9, 2017. The fight took place in Edmonton. At that point, Tucker had a career record of 10 wins and zero losses, with all of his victories coming in the Maritimes. Eight victories were in Halifax, Nova Scotia, with one win each in Trenton, Nova Scotia, and Moncton, New Brunswick.
Since Tucker's loss to Glenn, he beat Seung Woo Choi of South Korea in UFC 240 from Edmonton on July 27, 2019, and then Justin Jaynes of the United States in UFC Fight Night from Las Vegas on August 8, 2020. Tucker's previous two wins before beating Quarantillo on Saturday were by submission, with a rear-naked choke.
Tucker is currently the second-ranked Canadian in the UFC men's featherweight division, and 34th overall. The top Canadian is Hakeem Dawodu of Calgary, Alberta, who is 24th in the world. Dawodu's next fight is January 23 against Shane Burgos of the United States, the 11th ranked featherweight fighter. The current UFC featherweight champion is Alex Volkanovski of Australia.