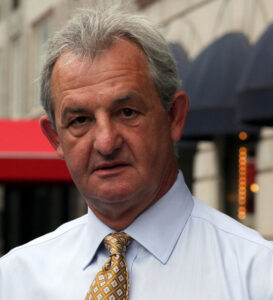 The Calgary Flames have named Darryl Sutter of Viking, Alberta their new head coach according to the Canadian Press. Sutter is returning to the Flames after coaching the Calgary Flames from 2002 to 2006. During his time in Calgary, Sutter reached the 2004 Stanley Cup Finals, as the Flames lost in seven games to the Tampa Bay Lightning. He takes over from Geoff Ward of Waterloo, Ontario, who was fired on Thursday.
Sutter has a career record as a head coach of 634 wins, 467 regulation losses, 83 losses in extra time, and 101 ties. In addition to coaching the Flames for three seasons, he coached the Chicago Blackhawks from 1992 to 1995, the San Jose Sharks from 1997 to 2003, and the Los Angeles Kings from 2011 to 2017.
While with the Kings, Sutter guided Los Angeles to Stanley Cup victories in 2012 and 2014. The Kings defeated the New Jersey Devils in six games in 2012, and the New York Rangers in five games in 2014.
Sutter has also won 89 playoff games, which puts him eighth all-time on the NHL playoff wins list for coaches. Scotty Bowman of Verdun, Quebec, is the all-time leader with 223 wins.
In addition to coaching, Sutter played eight NHL seasons with the Chicago Blackhawks from 1979 to 1987. In 406 games, Sutter had 161 goals and 118 assists for 279 points.
Sutter was also the Flames general manager from 2003 to 2010. He takes over from Ward even though the Flames beat the Ottawa Senators 7-3 on Thursday. The Flames are fifth in the North Division with a record of 11 wins, 11 regulation losses, and two losses in extra time for 24 points.