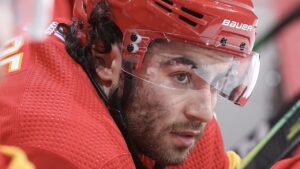 Dillon Dube of Golden, British Columbia recorded his first career National Hockey League hat trick on Thursday. Dube scored thrice as the Calgary Flames beat the Ottawa Senators 7-3.
Dube had three even-strength goals on four shots on net. He scored his first of the game at 2:59 of the first period from Matthew Tkachuk and Elias Lindholm. Dube then put the Flames up 5-1 at 7:16 of the second period from Mark Giordano of Toronto, Ontario, and Tkachuk. Dube's hat trick marker was at 1:17 of the third period from Tkachuk, to put the Flames up 6-1.
Dube was one of five Flames to record a multi-point game on Thursday. Like Dube, Tkachuk had three points, as he had three assists on the three Dube goals. Meanwhile, Sean Monahan of Brampton, Ontario, Brett Ritchie of Orangeville, Ontario, and Derek Ryan also had a multi-point game, as they had one goal and one assist for two points each. The other Flames scorer was Josh Leivo of Innisfil, Ontario, who scored his first goal with the Flames since signing as a free agent on October 24 from the Vancouver Canucks.
On the season, Dube now has six goals and four assists for 10 points in 21 games. He is a -4 with eight penalty minutes, two power play points, 33 shots on goal, four faceoff wins, seven blocked shots, 18 hits, seven takeaways, and 16 giveaways.
The Flames improved to a record of 11 wins, 11 regulation losses, and two losses in extra time for 24 points. They are in fifth place in the North Division, and two points back of the Montreal Canadiens for a playoff spot.