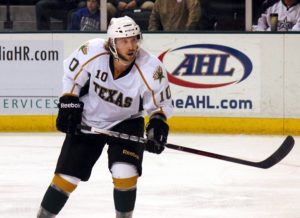 The Texas Stars have forced a seventh and deciding game in the 2018 Calder Cup Finals. On Tuesday from Ricoh Coliseum in Toronto, Ontario, the Stars defeated the Toronto Marlies 5-2 in game six of the best out of seven series. The series is now tied at three games apiece.
Justin Dowling of Cochrane, Alberta led the Stars in scoring with two points. Dowling was the only Stars player with a multi-point game as he notched two assists. The Stars goal scorers were Colin Markison, Austin Fyten of Sundre, Alberta, Curtis McKenzie of Golden, British Columbia, Sheldon Dries and Travis Morin.
The Stars are looking for their second Calder Cup in franchise history. They previously won the 2014 Calder Cup when they beat the St. John's IceCaps four games to one in the finals. They also reached the 2010 Calder Cup Finals before losing four games to two to the Hershey Bears.
Dowling signed as a free agent by the Stars on March 26, 2014. He played nine games for Dallas during the 2016-17 season as he notched two assists in nine games. A 27 year-old center, Dowling played junior hockey in Canada with the Swift Current Broncos of the Western Hockey League and in the American Hockey League in Canada with the Abbotsford Heat. Game seven of the series between the Stars and Marlies will be played Thursday with a 7 p.m. ET start time.